Visit Our Luxury Chiswick Kitchen Showroom
Welcome to Osborne Interiors, a luxury kitchen showroom in Chiswick specialising in the design, supply, and installation of bespoke British and German kitchens. A small kitchen showroom in a quiet area of Chiswick, we have been designing kitchens for over 40 years, delivering a personal service which puts our clients' needs at the heart of all that we do. We stand out from our competitors due to our flexible approach and the wide range of what we can offer our clients. Our service is fully bespoke, yet due to small overheads we are also very price competitive, and our clients get a lot in return for what they pay.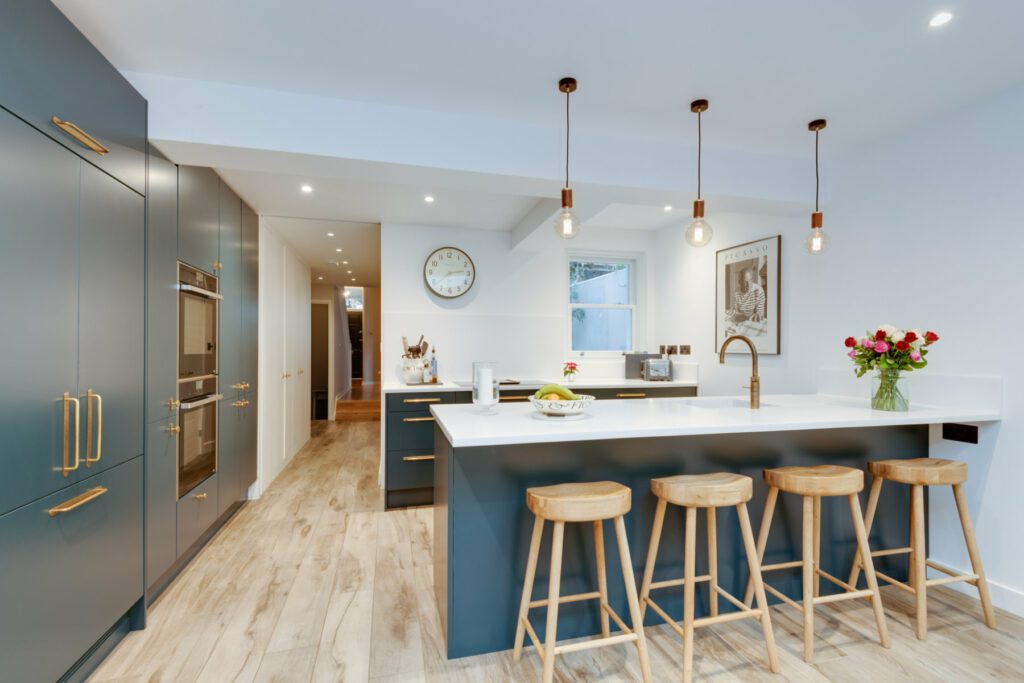 Accommodating Your Needs And Budget
From looking at our project portfolio you might not think you can afford one of our beautiful kitchens; a misconception of some of our former clients too, before speaking with us– but come talk to us, and we may just surprise you! We cater for different markets, with products and brands suitable for a wide range of budgets. This includes a budget, mid and designer product range. As well as passionate about design, we are honest and caring, and will always strive to deliver the absolute best for each of our clients and their projects.
Our Kitchen Products And Brands
At Osborne Interiors we are highly experienced in designing kitchens of all sizes, whether it's a small galley refit, or else large, purpose-built extension. We have excellent relationships with all the major suppliers for kitchen equipment and accessories. From furniture to built-in appliances, to coffee machines, whatever your need or whatever your budget, we can help. We have carefully chosen partnerships with brands we believe in, namely British and German kitchen brands with a solid reputation for excellence.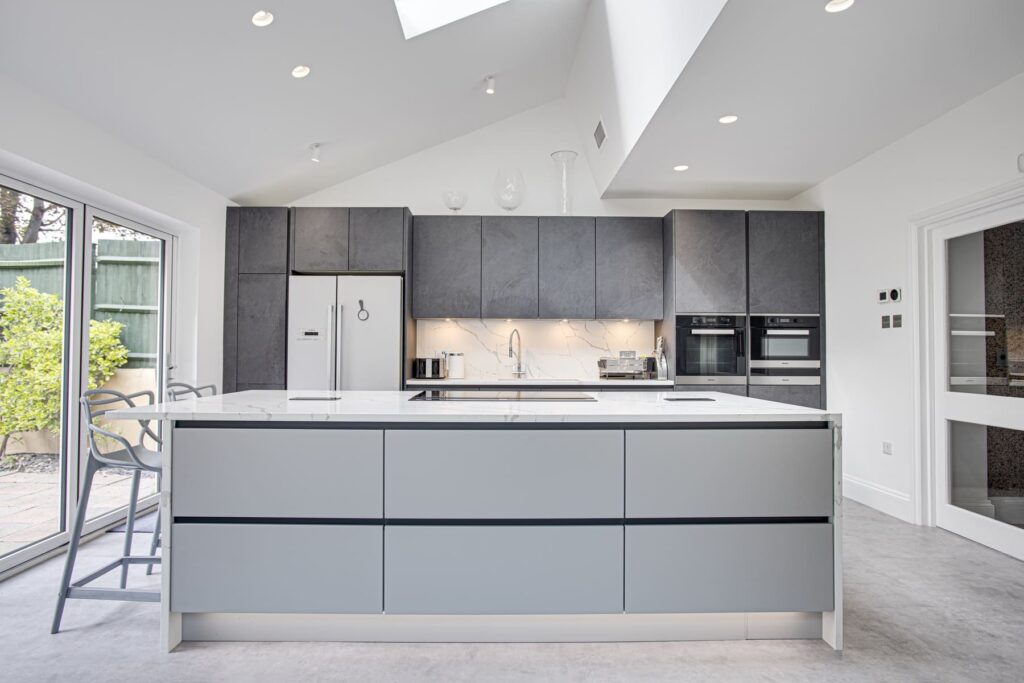 Luxury German Kitchens
German kitchens offer a sleek, modern look and represent excellent quality. Their kitchen build quality is known for its superiority, attributable to the economies of scale which allow German manufacturers (most of whom are family owned) to reinvest in their businesses. This ensures they have cutting–edge machinery, the best of the best which allows seamless fitting, flexible product ranges, and much choice for consumers. At Osborne Interiors we offer German kitchens in a wide range of colours and styles including on trend matt, stone, ceramic, wood and handleleless kitchen styles. Making quality accessible, all our German kitchens are reasonably priced and represent excellent value for money, with kitchen prices starting from £10,000+.
British Kitchen Brands
Like German kitchens, British kitchens are an excellent product, synonymous with quality and a long-lasting finish. Typically, British kitchen furniture offers a more traditional look, and if this is your preferred style, we offer a wide range of Shaker and in-frame kitchen doors in many colours and finishes. This includes factory finished doors as well as hand-painted finishes. Again, our British kitchen offerings cater towards different ends of the market, making traditional kitchen styles accessible for different project budgets.
Kitchen Showroom Chiswick
For inspiration for your new project, book an appointment to visit our luxury kitchen showroom in Chiswick! Here you will find an array of beautiful kitchen displays, featuring everything from matt glass and bronze metallic wall units, ceramic and concrete kitchen displays, on trend Shaker kitchen doors, as well as a stunning old Oak kitchen unit with retractable doors.
All of our kitchen showroom displays are fully dressed to help you picture how each finish might look in your own home, and we have working appliances from top brands including Siemens, Miele, Neff, Bora, and Quooker for taps too. Worktop samples are also available from brands including Cosentino, Dekton, and Corian.
Opening Hours
Monday: Friday: 9am – 5pm
Saturday: Flexible Appointments
Sunday: Closed
Let's Find the Right Finance For You
Buying a brand new kitchen, bedroom or bathroom can be a huge financial commitment, but also a very good investment as it adds value to your home. Flexible finance options are therefore a great way to help you achieve your dream.
With Osborne Kitchens, you now have the option to apply for finance and spread the cost. We work with Ideal4Finance Ltd to deliver the best possible finance option for you. Applying for finance is a simple process – please click on the link or call 020 3617 4647 to begin your application process, or else to speak to an expert advisor and find out more.
Osborne Interiors Service Areas
Showroom Amenities
Our Chiswick kitchen showroom has restricted parking outside between 10am-12pm, but otherwise is free outside of these hours. We welcome all visitors including children and even dogs, with a selection of toys available to help entertain younger children. We are fully accessible for prams and wheelchairs though there is a small step on entry; please advise at the time of your booking should you require any assistance. Please note visits to our luxury Chiswick kitchen showroom are by appointment only.
Discover Our Range Of Styles